Billing Software for Jewellery Shop
CaptainBiz billing software for jewellery shop/businesses is an excellent tool for managing your business. With features like inventory management, sales tracking, and tax calculation, this software is designed exclusively to help you save time and increase efficiency. Plus, that's not all it's easy to use and comes with a 14 days free trial.
Start 14 day free trial. No credit card required.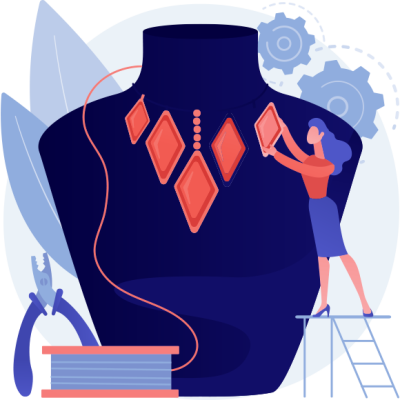 Features of Jewellery Billing Software
Some of the best features available in the CaptainBiz jewellery shop billing app are listed below

Tally Export
Generate company reports in Excel which are easily exported and compatible with Tally.

Real-time Inventory Check
Auto updation of inventory after any kind of sale or purchase is made. Easily view all input-output movements in the business.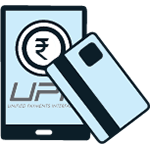 Purchase Management
Effectively manage procurement requirements as per the cash cycle of the business.

Customer & Supplier Visibility
Quick overview of all customer and supplier related transactions and outstandings.

Cash & Bank and Reconciliation
Track all cash & bank transactions. Easily reconcile bank statements with system-based transactions.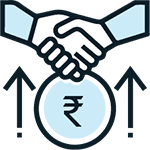 Multi Company & Users
Manage multiple companies in a single CaptainBiz account and login. Multiple Users can access a single CaptainBiz account.

Quick Billing & Customized Invoices
Share invoices with customers and suppliers via WhatsApp or email. Generate tax inclusive or tax exclusive invoices per requirements.

GST Reports
All GSTR reports (GSTR1, GSTR 3B, GSTR4) are auto updated as the transactions are recorded over CaptainBiz. These can be extracted in Excel format in just a few clicks.
Why Use Billing Software for Jewellery Shop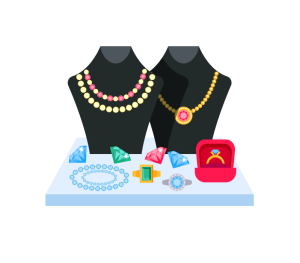 Billing software is a very essential need for any jewellery shop who want to provide their clients with an outstanding level of service and be able to reduce or eliminate administrative tasks by using billing software for jewellery shops.
Since, maintaining several applications while also meeting all of one's responsibilities is a tough job for any company owner. A few of the reasons why jewellers prefer to utilize jewellery accounting software are as follows:
Businesses may produce GST-compliant invoices by utilizing jewellery billing software. These may be used to conveniently submit taxes for your business by simply adding them to the financial reports with a single click.
Accuracy & error elimination
Manual data input in an invoice might result in several mistakes, making it appear unprofessional. With the jewellery shop software, you can easily scan products in your business with a barcode scanner and properly list them on your bills using the jewellery shop software. It can assist you in obtaining accurate information about a product and accurately labelling it on the invoice.
Simple user-friendly interface
The user interface of billing software for jewellery shops is designed to fulfill the requirement of a jewellery store. Anyone who works in a jewellery store may use the app to effortlessly produce a bill and manage inventory.
Easily locate any item of jewellery that is not selling or that is in great demand. With CaptainBiz jewellery billing software, you can efficiently and effectively manage your inventory.

Stellant Communications
2. June, 2023.
"We'll surely recommend CaptainBiz to everyone who is looking at the most effective GST ready billing and Accounting software. From sales order and invoicing to payments – we now handle all transactions with one software. Our sales, purchase and accounts team has access to the same accounting data which has greatly eliminated billing errors, improved data accuracy and strengthened the revenue recognition process. It comes in very handy for daily billing. Thanks to CaptainBiz."

Jai Maa Santoshi Traders
2. June, 2023.
"We are distributors of confectionery items based out of Bihar. Our billing used to happen manually over the years until Vyapari helped us to automate the entire billing process. Am raising my purchase and sales invoices through a mobile app with ease and it's no more a time consuming task for us. Thanks to CaptainBiz for streamlining how business works"

Digital Beej
2. June, 2023.
"CaptainBiz is for anyone who is looking for a fast and error-free generation of GST invoices and reports. It keeps a track of every detail such as the inventory, loss statements, accuracy of income, profit and loss accounts and cash flow statements of your business. It has made me run my business without any hassles and has saved a lot of my time. I would recommend this to everyone who is too busy to keep track of everything manually."
So what are you waiting for?
Take your business to the next level with Captain Biz Try free for 14 days
FAQs Related to Jewellery Billing Software
Know more about Accounting & Billing Software for Small Businesses